About Herbal Bliss Tea Set 
Tisanes or herbal teas, have been used for thousands of years for their complex taste and perceived therapeutic properties. In our mission to promote health and wellness through full leaf teas, we have created the Herbal Bliss Tea Set.
Inside Herbal Bliss 
This tea set contains three Ayurveda inspired herbal teas containing
Chamomile Tea for stress relief, metabolism and sleep
Peppermint, Tea for immunity and rejuvenation
Lemongrass Tea for detoxification and weight management
It also includes
Three small silver storage tea tins
Product FAQ's
Q1: What occasion can I give Herbal Bliss Tea Set as a gift?
A1: Herbal Bliss Tea Set is a universal gift designed to give round the year for any special occasion like Birthdays, Anniversary, Housewarming, Wedding, Baby showers, Diwali, New Years or as Corporate Gifts to clients.
Q2: Is Herbal Bliss Tea Set safe to give to pregnant women?
A2: Herbal Bliss Tea set actually contains teas that are safe and highly recommended for stress relief and overall health during your pregnancy. The key ingredients of the teas in herbal bliss tea set are chamomile, peppermint and lemongrass that help boost overall immunity and health. We do recommend consulting your doctor for dietary guidance on herbal teas.
Q3: Can you customize Herbal Bliss Tea Set for Corporate Gifts?
A3: Since we stock the designer tea box, we can offer limited customization on herbal bliss tea set like logo printing on the silver tins inside the box, an external screen with logo print for the box. A marketing material or card to place inside the box. Please note that these customization are only available for bulk orders >50 pcs and are not applicable for retail orders
Q4: Is there a minimum purchase quantity required to place a corporate order for Herbal Bliss Tea Set?
A4: There's no minimum purchase quantity required to place a corporate order, However you can fetch better pricing for higher quantities.
Q5: Is there a lead time to place a bulk order?
A5: Yes, we need at least 15 days of lead time to prepare and ship your order on advance payment for all bulk gifting inquiries.
Herbal Tea Gifts for All
Take the guess work out of festive gift giving
Festivals are a season to celebrate togetherness with loved ones! While nothing can take the thrill and fun of celebrating festivals together, a simple gesture of giving something thoughtful can go a long way in making someone feel special. Whether it's a friend, a family member or a client! What better than giving the gift of wellness with herbal tea gifts?
Herbal Bliss tea set is inspired by festivities and celebration. The rangoli design on the box beautifully lays out all the ingredients of the teas like lemongrass, mint and passion flower. It also contains a smart office tea cup designed to brew herbal teas with ease. A perfect corporate gift for diwali, new year or any other ocassion. Stand out from the crowd with our Herbal Tea themed gift set! Limited customization available for bulk orders. Interested? Fill out the form below to get the bulk rates
Inside the Herbal Bliss Tea Set
a festive inspired wellness tea gift box for corporate, wedding & festive gifting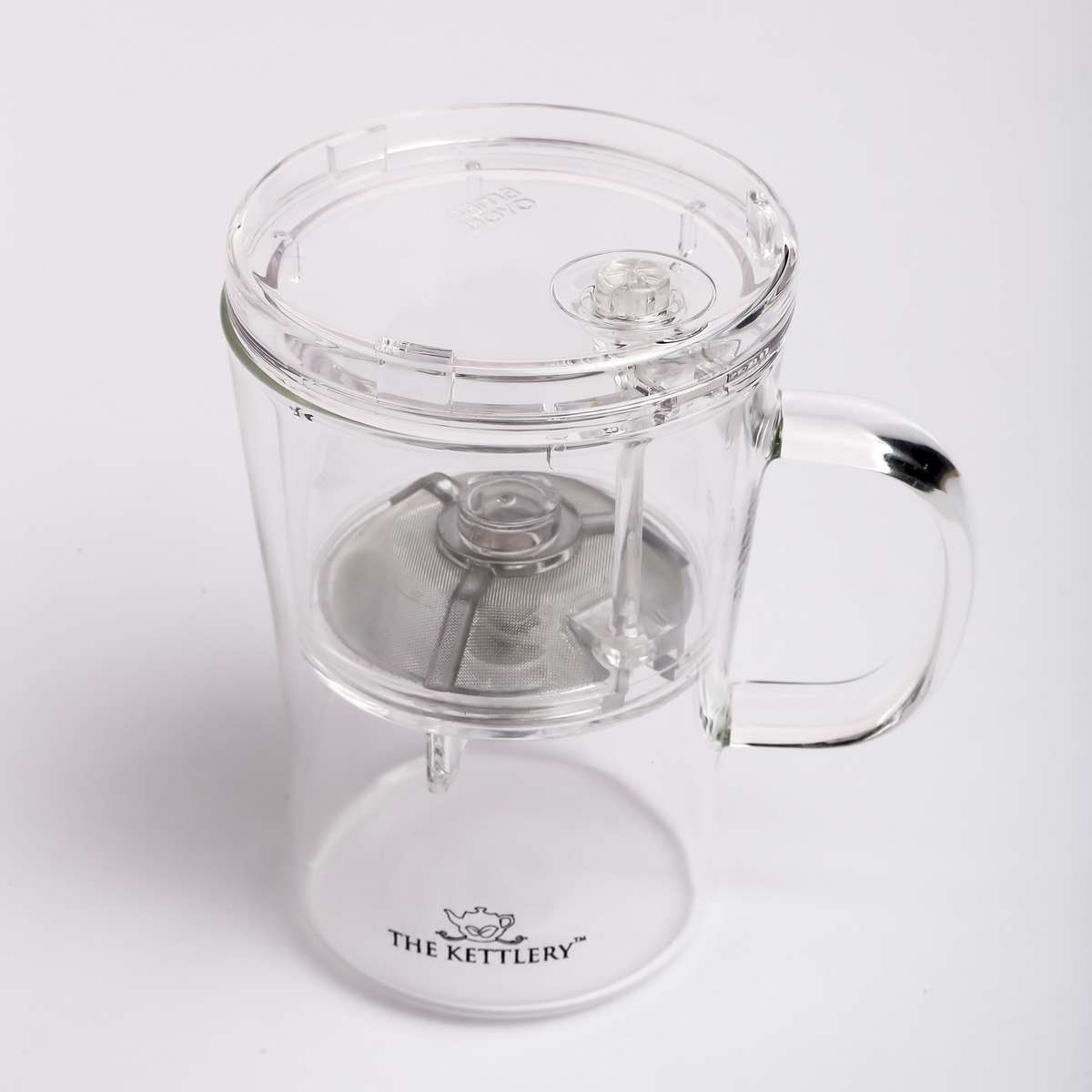 for herbal tea brewing & drinking
As the name suggests, the smart office tea cup is designed for convenience and durability for everyday use. Made with high quality borosilicate glass this tea cup comes with a glass tea infuser and lid. It's unique tea steeping and filtering mechanism is both smart and functional for herbal tea leaves that can be steeped multiple times. All you have to do is pour hot water, press the button to filter, drink and repeat. Make the smart choice with The Kettlery's smart
office tea accessories
.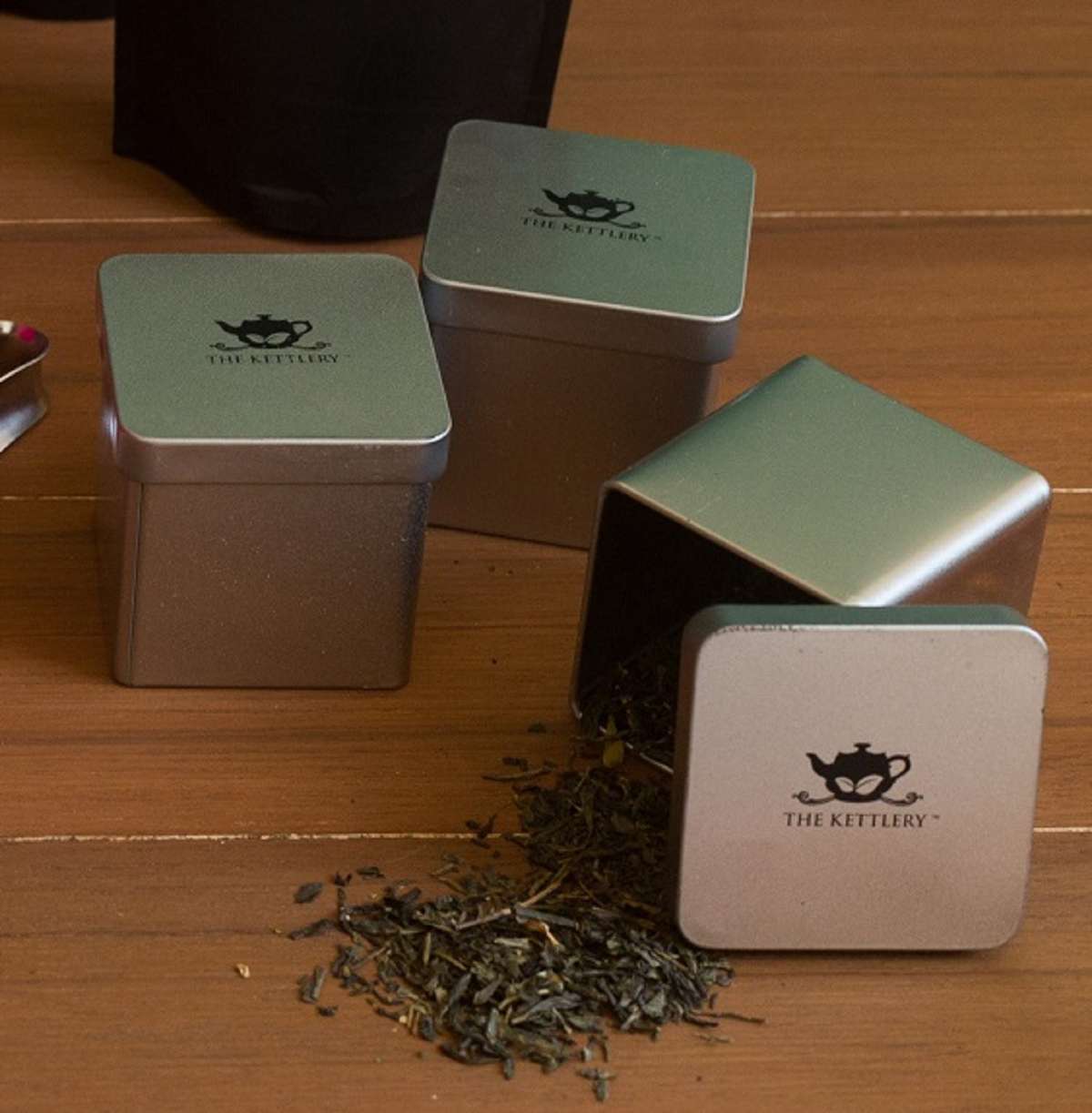 Silver Square Storage Tea tins
Airtight foodgrade storage tins for teas
These small square food grade tea storage tins are super sleek and travel friendly. Stack-able with airtight lids they can be stored in small places easily. Use them to store your
herbal teas
, spices, etc and carry them with you everywhere so you never have to leave without your favorite teas!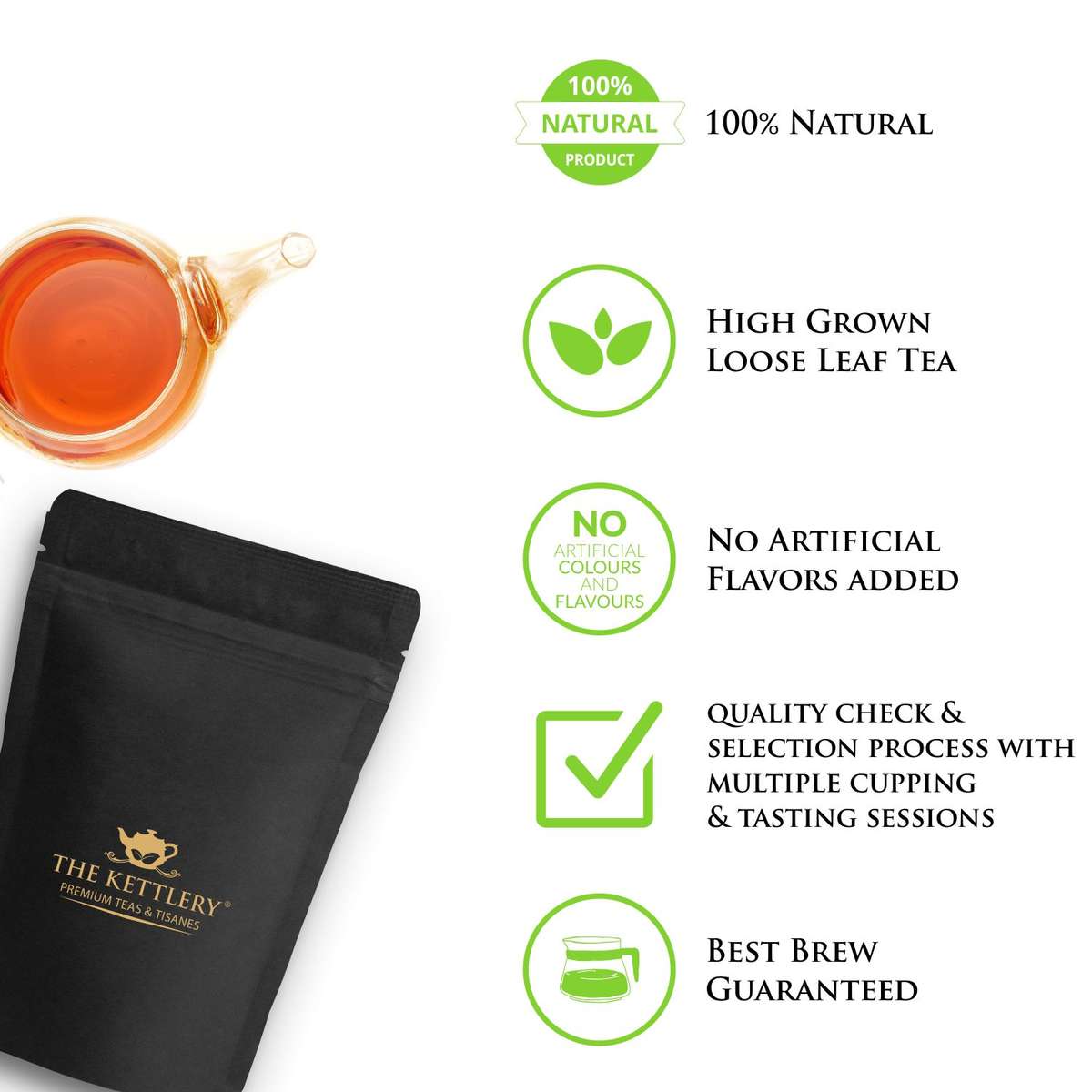 High Grown Direct from Source Herbal Teas
pack of 3 herbal teas including chamomile tea, lemongrass tea and peppermint tea for overall wellness
The Herbal Bliss Tea Set comes with three herbal teas including
chamomile teas
for stress relief and sleep, lemongrass tea for detox and weight management and
peppermint teas
for rejuvenation and immunity! It's rightly said that there is no better
gift
than the gift of health! The Herbal Bliss Tea Set stands true to that promise!