Twin Tea Gift Set
Rs. 1,500.00
Rs. 2,200.00
About The Twin Tea Set
The Kettlery's custom tea sets offer a personal touch to our tea set assortment. The  twin tea set gift boxes come in four different colors with several tea and tea accessories optons. Select your favorite green, herbal, black or dessert teas (any one or up to two teas). Each tea set contains two premium teas (of your choice), two colored tins and one wooden teaspoon or stainless steel stick infuser.
Inside The Twin Tea Set
Two Storage Tea Tins
Choice of One or Two Teas 
A Handmade Wooden Teaspoon

Our Recommendations
Finding it difficult to decide which teas to choose. We are here to help. Select any color of the twin tea gift box with our recommended teas preselected for you. 
Twin Box with Green Teas - Jackfruit Night, Darjeeling Green
Twin Box with White Teas - White Pearls & Darjeeling Moonshine
Twin Box with Herbal Teas - Amusing Peppermint & Ayurvedic Bliss
Twin Box with Exotic Teas - Sparkling Oolong & Cleopatra
Custom Tea Gifts on Budget
Build your own tea gift box with Twin Tea Set. Personalize every detail from selection of teas, accessories and a handwritten note. Stand out of the crowd with premium tea gifts by The Kettlery. Ideal for corporate gifts on budget. For bulk rates and custom printing requirements please fill out the form below
Corporate Gifting Inquiry Form
Please fill out the form below to get bulk rates & custom logo requirements
Inside The Twin Tea Set
Customization options, choice of teas & accessories
Choose from 4 colors of airtight storage tins
Add your own logo or a custom sleeve for a personalized gifting experience.
*Additional charges may apply for custom printing. Please fill out the form above for details.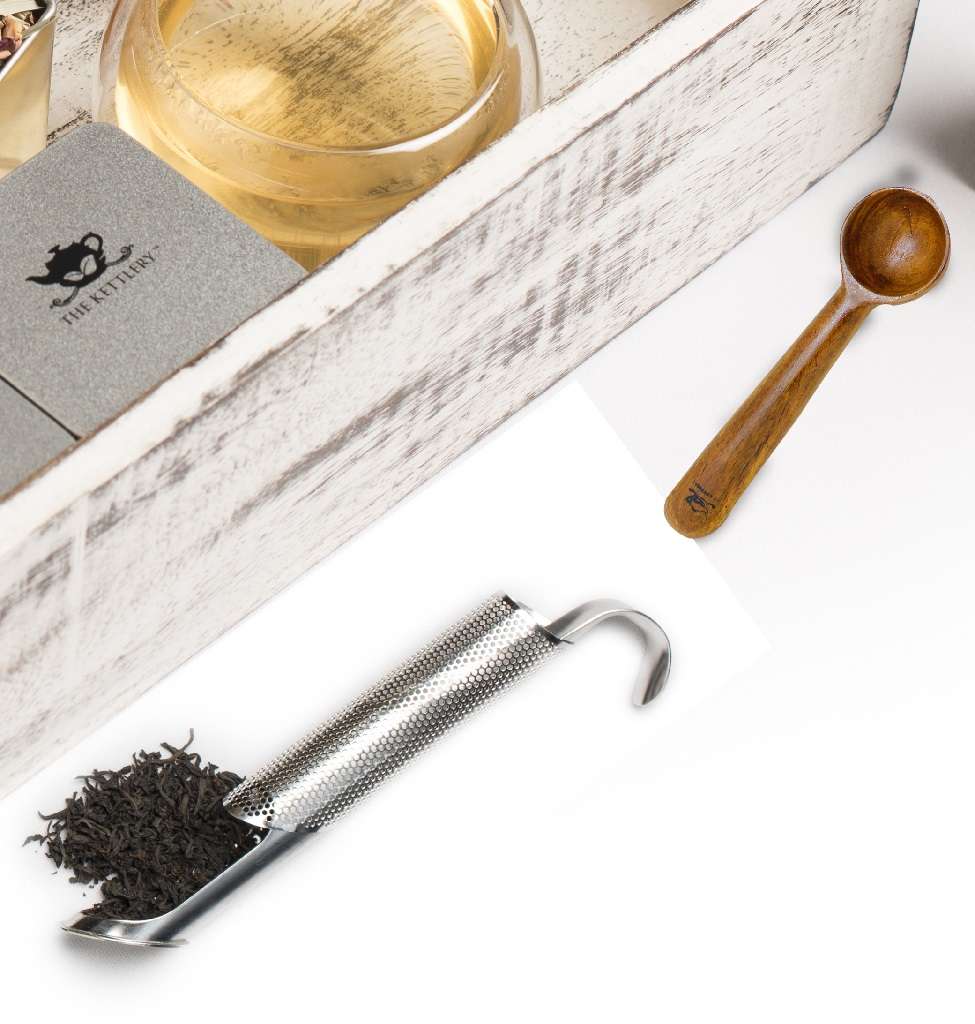 Handmade Wooden Teaspoon or Stainless Steel Tea Infuser
Choose your own tea accessory
Choose from a handmade wooden teaspoon or a stainless steel stick tea infuser based on your budget and requirements.